Other proyects
by Insparya
Thanks to our scientific research, we have also created our own line of shampoos (no parabens, no salts, no alcohol, but with seaweed, which offers enormous benefits for hair care), as well as our own hair mesotherapy, MesoHair + And MesoHair+ Home, based on the best ingredients to fight androgenic alopecia and improve the quality of hair.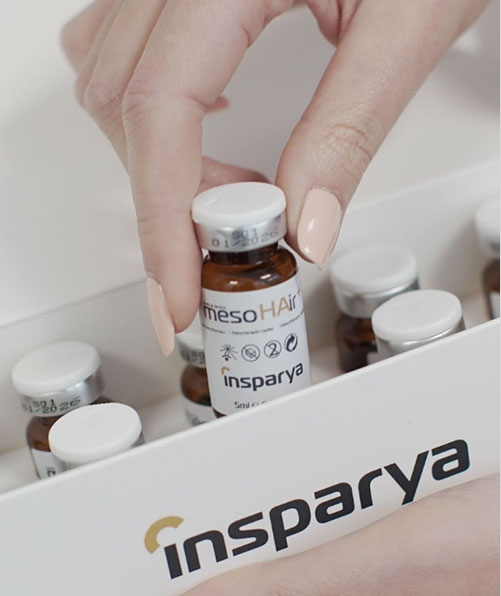 Hair mesotherapy is a highly effective treatment for improving hair quality. It's a bio-stimulation technique that uses small subcutaneous injections that are totally painless to biologically activate hair cells, promoting the production of higher-quality hair that's stronger and more resistant.
In its ongoing search for more thorough treatments with better results, the Insparya Science and Clinical Institute has developed a new and improved mesotherapy treatment, mesoHAir+.
This is the most complete hair mesotherapy treatment on the market, and it's the only system backed by clinical and laboratory experience.
The secret is in the high concentration of ingredients that allow for greater effectiveness.
This new mesoHAir formula has more than 50 active ingredients. Notable among these are non-reticulated hyaluronic acid, which thickens hair and is key to hydrated hair fibres and higher resistance to breakage and falling out; vitamins like biotin, which stimulates hair growth and follicular unit stem cells; proteins; mineral salts; growth factors, which activate the follicular units for stronger, more resistant hair; antioxidants, which reduce oxidative stress and slow follicular ageing; gotu kola, which enhances collagen; keratin amino acids for shinier, more resistant hair; gingko biloba, which stimulates circulation and has antioxidant properties; and the 5-alpha reductase inhibitor finasteride, which has been linked to androgenetic alopecia.
The result of this combination is higher-quality hair that's more resistant.
One of the benefits of this new and improved mesotherapy is that by: incorporating topical finasteride, it avoids the side effects of oral treatment, such as lower libido or impotence, two of the most concerning effects for men, who are the primary patients for hair transplants. Mesotherapy can be also used as a shock treatment, reducing the intake of other medications such as minoxidil.
This treatment is suitable for both men and women, and it is highly effective in preventing hair loss, stimulating hair growth and regeneration, and nourishing the scalp. It can be done alone or combined with other treatments, such as PRP or hair transplantation.
For maximum efficacy, the new mesoHAir + also has a follow-up treatment to be done at home. This treatment is composed of the same ingredients: mesoHAir + Home. It includes a mini-roller, ten mesoHAir+ treatment vials , and a disinfectant. Thanks to this new system, patients will be able to apply the treatment at home easily, without the need for a third party to do the mesotherapy injections.
As a result of this research, Insparya has developed a line of hair care products that, thanks to their ingredients and properties, make it possible to care for and treat the hair and scalp.
Anti-dandruff shampoo. It has a local antiseptic effect and is designed to prevent the formation of dandruff. Piroctone Olamine, an active ingredient that protects the scalp from the effects of the fungus that causes dandruff, is associated with Rosmarinus Officinalis, commonly known as rosemary. This is considered a powerful natural antioxidant that tones and energises hair. Seaweed helps restore the natural microbial balance of the skin with a purifying, refreshing effect that regulates oiliness.
Skin-calming shampoo. With anti-inflammatory and restructuring properties from cranberry oil, seaweed, and bisabolol, an essential component of chamomile essential oil. Cranberry oil is known for its antioxidant properties that rebalance hair's cecular structure, removing harmful toxins and protecting it from signs of premature ageing. With its anti-inflammatory properties, bisabolol has significant decongestant and soothing effects on the scalp.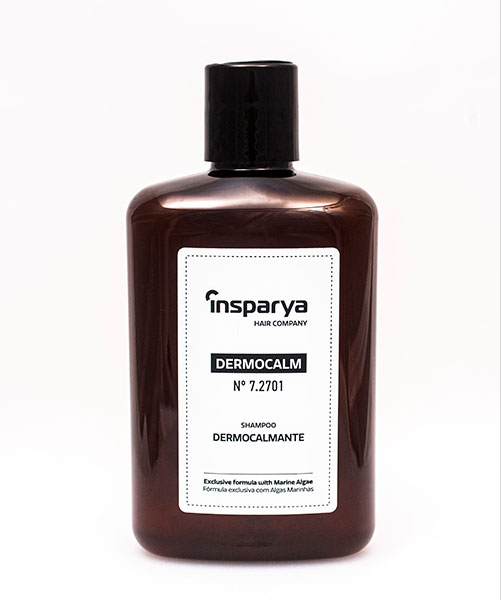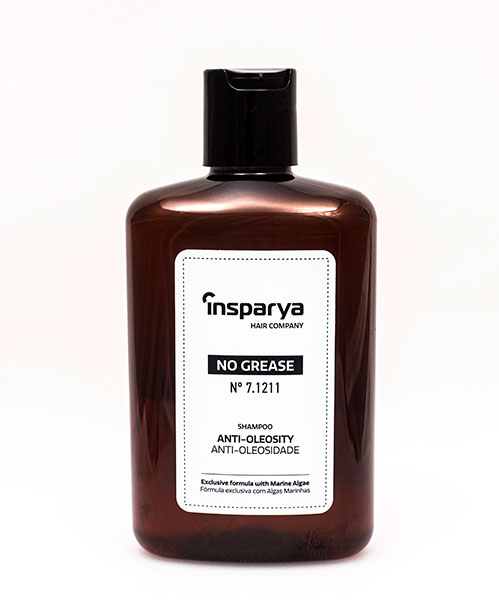 Anti-grease shampoo. With tea tree essential oil, cooling agents, and seaweed. The antifungal and antimicrobial properties of tea tree oil treat seborrheic dermatitis while moisturising the hair and scalp, also preventing the accumulation of excess oil. Using it regularly helps free the dermis of excess sebum, contributing to better oxygenation of the skin and hair.
Frequently used shampoo formulated with oats, aloe vera, and seaweed. The oats strengthen, nourish and soften the hair fibre, while their proteins naturally adhere to the hair, helping it form barriers against toxins and dehydration. Aloe vera is responsible for regulating sebum, thus helping balance the scalp's natural oil and maintaining the hair's hydration, strength, and shine with its high water content. Seaweed extract provides vitamins, minerals, and trace elements such as iodine and magnesium. It softens and refreshes, protecting the scalp from atmospheric agents.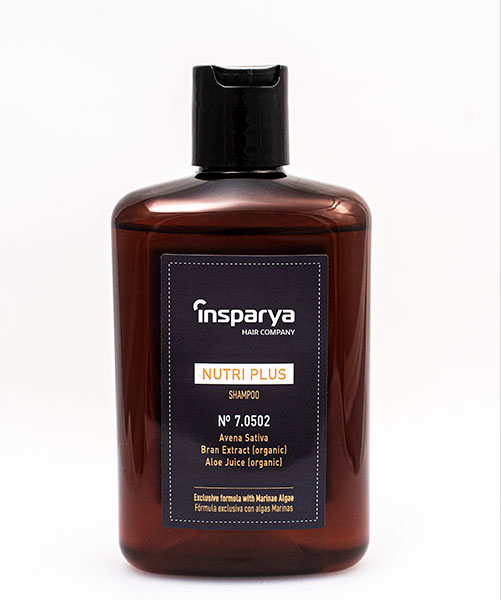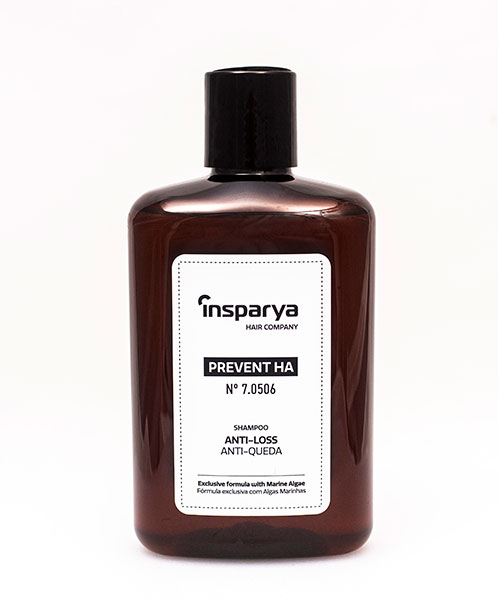 Anti-loss shampoo. Helps prevent hair loss. For weak, fine hair. It is composed of seaweed and hyaluronic acid to repair hair from the inside, giving it a full feeling with elasticity while preventing breakage, dryness, and loss of shine. It helps repair and regenerate the protective barrier of the epidermis to revitalise it and reduce skin irritation. When used regularly, it stimulates cellular metabolism and regenerates hair fibres.